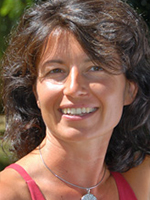 Laurence Heitzmann
Certified SkyDancing Tantra Teacher
LET Facilitator
Website
This email address is being protected from spambots. You need JavaScript enabled to view it.
Biography :
Laurence is a body therapist and seminar leader. She is a certified member of the SFABE - Société Française d'Analyse Bioénergétique - whose teachings stem from the work of W. Reich and A. Lowen.
She is also a certified SkyDancing Tantra teacher: Personal Training (TEL) and Teachers' Training.
Based in Lyon, France, she receives individual sessions for psychotherapeutic follow-up. She also offers Tantra workshops and courses - with Laurent Lacoste, her companion - during which she likes to create the climate of trust necessary for a process of transformation.
Anything that makes you feel physically, emotionally and energetically vibrant and therefore more fully alive is her guiding thread. This is how her path has led her to Skydancing Tantra, in which this approach invites spiritual awakening through a conscious body.