A 7-day immersion between women to dive into the deep waters of the secret temple of your femininity..
This retreat dedicated to Feminine Sexuality offers a unique concept: the synergy between the Body and the Unconscious. Indeed, these two powerful Guides can accompany us towards the liberation of our Sexuality at all levels.
The sensory encounter of our Yoni, in a simple and delicate spirit, teaches us the forgotten language of Femininity. By exploring the "G-spot" or female prostate, we discover female ejaculation and a universe of feelings related to pleasure, love and femininity.
In order for our body to speak to us in this way, and for us to be open to its messages and to the liberation they offer us, we will approach the hidden resistances within us, and the indoctrinations that imprison our sexual enjoyment.
Indeed, the Unconscious acts in us independently of our Consciousness, and is its basis and origin. According to Carl Jung's approach, we can befriend this vast Inner World and make it our ally. During this workshop we will experience the dialogue with different archetypes of transformation: our Shadow, our Masculine, and the Self. This dialogue with the Inner World can be a constant support to our growth. Wonder is the nature of this journey.
Thus our Body guides us through the primordial wisdom of the Instinct, and our Inner World helps us step out of the collective programming and open a new path to natural joy and health. Together these two Masters open the door to more and more global orgasmic dimensions, and we regain sovereignty over our sexuality and our life.
During the SkyWomen retreat, come to :
With courage, question our taboos, our armour, our beliefs and what in us can hurt or hold back our capacity for enjoyment
Transform our wounds into consciousness, our consciousness into joy, by integrating the strength of our shadows, and by transforming our inner tyrant into a loving companion
Enter into authentic speech and loving listening between women on their journey, vulnerable, sensitive and courageous
Take the time to commune with Nature and recognize in her the expression of the Ancient Goddess
Bring the roots of our sexuality into the light of our Being to become the New Woman who unites in her body her sexuality and her spirituality
This retreat is oriented towards practice. The tools offered include intimate knowledge of the Yoni, and in particular the exploration of the G-spot and female ejaculation.We will also explore our feminine Shadow and other powerful dimensions such as our inner Masculine and the Black Virgin, according to the Jungian approach. Massage, meditation, speech, dance, body-mind work to liberate the armoring, contact with Nature, and the power of ritual will be part of our experience.
For women who have already done a 2 or 3-day introductory workshop with Deborah, this retreat represents a deepening of her work.
Facilitators :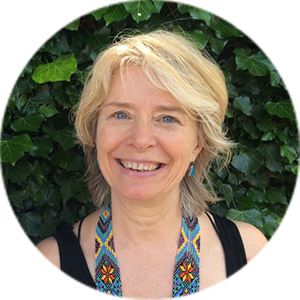 Aïma Andany is a certified teacher of the SkyDancing Tantra Institute, and is part of its teacher training team. In addition to her Tantra experience, she is trained in Jungian Psychology, the Dreadnought Release Method, Naturopathy and Meditation.
Deborah Sundahl, well known American sex educator, is a foremost pioneer and expert on female sexuality. She is the author of "Female Ejaculation and the G-spot" and has been a spokesperson for female sexuality and an advocate for sex education for more than 35 years.
Place :
In the heart of the Cathar country, a lovely rural property will be the ideal oasis to welcome this unique meeting in France. Surrounded by nature that will be in full spring bloom, with its inviting swimming pool, this place will be the cocoon of relaxation and beauty where each one will be able to unfold in her sexuality and its multiple dimensions.
Feedback from participants of this retreat :
"This co-lead seminar by Deborah and Aima has been one of the most impactful for me. I experienced it as very complete due to their complementary, generous and mature approaches: Deborah's is pragmatic, enthusiastic and action oriented, while Aima's is deeply exploring the feminine mystery with its psychological and societal backgrounds, characterized by her open heart with which she accompanies the group of women. This workshop has been a significant step for me towards more openness, joy and my sovereignty as an ecstatic woman." - Alima
"The workshop is a deep process of reconnecting to oneself, to discover one's limits with creativity and gentleness, and to go beyond them. This transformation is possible thanks to the strength of the group and the restraint of the coaching team. Personally, it is an experience that I find indispensable to go to the meeting of oneself and one's feminine." - Nathalie